Proteus TTS Test Site
Please enter or copy any Slovene text in the window above. Then press the Read button. Wait for a few moments - in the meantime the Slovene speech synthesizer Proteus TTS is converting input text into speech and sending the resulting sound file to your computer where a player plays the synthesised speech file.

Note: In order to minimize the data flow from our server to your computer we encoded the speech output into mp3 format which results in a slightly degraded speech quality. The licensed version of the Proteus TTS generates speech of higher quality.

Developers of speech-enabled applications - please contact us at the following address proteus@alpineon.si.



Distribution for blind and visually impaired persons for personal use
IRIS NOVO MESTO d.o.o.
Novi trg 5
8000 Novo mesto, Slovenia
Tel: +386 7 338 02 14
Fax: +386 7 338 02 13

info@iris-novomesto.si
www.iris-novomesto.si

NEWS
08.08.2013
Updated drivers for USB protection key v6.60.

17.12.2007
The Slovenian Minister of Science and Technology, Mojca Kucler Dolinar, and Robert Cugelj, the general director of the Institute for Rehabilitation of the Republic of Slovenia, have opened the IRIS Smart Home, a testbed for various assistive technologies. The Proteus TTS system has been integrated into two applications: a gaze-controlled communicator and a screen reader for blind and visually impaired users.


12.12.2007
Proteus TTS has a new male voice - Proteus Luka, which has been developed in cooperation with the Faculty of Electrical Engineering, University of Ljubljana.



02.10.2007
The recently appointed Slovenian Minister of Science and Technology, Mrs Mojca Kucler Dolinar, and the European commissioner for Information Society and Media, Mrs Viviane Reding, have visited the 7th Festival for 3rd life period in Ljubljana. Among others, they attended presentations of the IRIS Smart Home and the Proteus TTS system.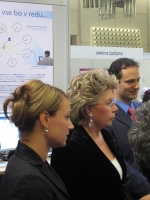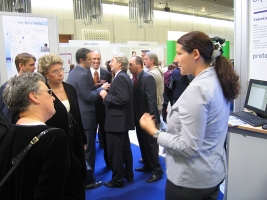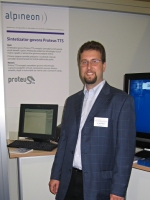 27.9.2007
We invite you to visit us at the 7th Festival for 3rd life period, taking place in Ljubljana on October the 1st and the 2nd, 2007. You can test the Proteus TTS system at Alpineon's exhibition booth.